Practically Perfect: Designer Kate Hamilton Gray On a New-To-Market Red Hook Reno
Dec 11, 2020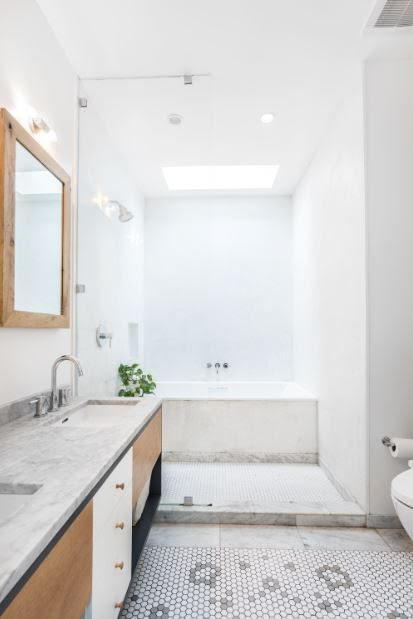 Open house by appointment, Sunday 12/13
We're sad to see the current owners move on, but it's a treat to have this lovely townhouse on the market again. I checked in with designer Kate Hamilton Gray to discuss the renovation. 
TF: Hi Kate! I'm a huge fan of your work, as you can probably tell from all the times I "like" your Instagram page. Whenever I visit your 34 Dikeman Street project, I'm always struck by some new detail, especially in the upstairs bathroom. How did you design the unusual tile pattern?
KHG: I just thought it would be fun to create a sort of medallion, custom layout with very affordable standard mosaic tile. I laid it all out dry on the floor and just played with the pattern with dots of blue tape until I was happy with it.
TF: Did you invent the two-sided linen closet? I've never seen one before and I think it's genius.
KHG: I did not, but sounds like a great solve!
TF: Restoring a real working fireplace is clearly a labor of love. What made you decide to invest in that element?
KHG: It was well worth it, Chris my partner on the project had seen randomly some guys doing brickwork on another project in Red Hook and got them in to help on this as a side project. You really can't recreate the charm and warmth a woodfire adds to home with gas fires, so I think if a house has an existing one, it's worth effort to get it going again.
TF: You mention using Red Hook artisans – how did their skills impact your design choices?
KHG: We were working on a tight budget with the renovation, but by engaging with your community you can find ways of incorporating some really special details. The Kitchen shelf and counter were made from beams someone was discarding from another reno, and milled down by Taffera builders in their shop. The Master bathroom plaster walls were done by Beriah Wall, a local artist who hadn't done plaster work quite like that, but was game to help out!
Thanks for the visit! Check out the rest of Kate's work at Hamilton Gray Studio.